[공지사항]<제 1회 아이아 갤러리 AI x ART 프로젝트 > 글로벌 공모 온라인 투표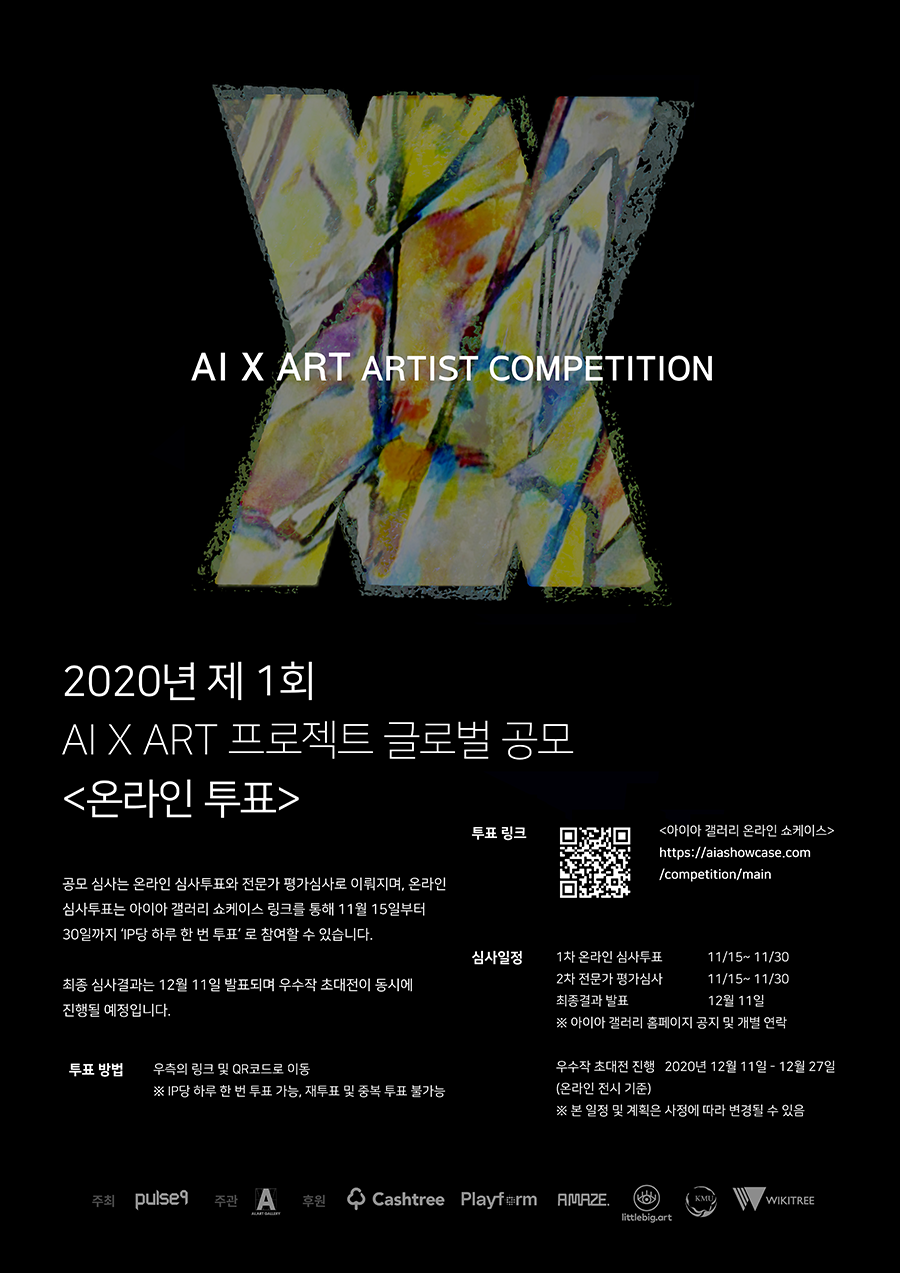 *위 사진을 클릭하면 투표 페이지로 이동합니다.
---
국내 인공지능 이미지 기술 선두기업인 주식회사 펄스나인은 예술과 기술의 융합을 이끌고, 인공지능의 새로운 가능성과 사회문화적 가치를 제시합니다. 펄스나인 산하 'AI 아트 갤러리 아이아'는 역량있는 청년 및 신진작가를 발굴하고 새로운 예술적 매체인 AI 툴을 활용한 작품활동의 지평을 넓히기 위해 2020년 《제 1회 아이아 갤러리 AI X ART 프로젝트》 글로벌 공모를 진행했습니다.
공모작은 아이아 갤러리상 '얼굴' 주제와 후원 특별상인 '자유' 주제 두 섹션으로 접수되었습니다. 참여작가들은 작품을 통해 현재시점에서 AI를 둘러싼 다양한 담론, 기술들을 실험하고 선보입니다.

공모 심사는 온라인 심사투표와 전문가 평가심사로 이뤄지며, 온라인 심사투표는 현재 페이지를 통해 11월 15일부터 30일까지 부문별로 'IP당 하루 한 번'으로 참여할 수 있습니다.
최종 심사결과는 12월 11일 발표되며 우수작 초대전이 동시에 진행될 예정입니다. 우리의 삶에 깊숙이 들어와 삶의 양식을 바꾸고 있는 인공지능 아트와 기술을 둘러싼 담론과 작가들의 실험적인 작품에 대중의 많은 관심을 기대합니다.
[투표방법]
1. '얼굴' 주제 공모/ '자유' 주제 공모 클릭하기
2. 마음에 드는 썸네일을 클릭하여 작품 감상하기
3. '이 작품에 투표하기' 버튼을 눌러 투표하기
※ '얼굴' 주제에 1표, '자유' 주제에 1표 (총 2표 투표)
※ IP당 하루 한 번 투표 가능, 재투표 및 중복 투표 불가능
투표 현황 바로가기
https://aiashowcase.com/competition/tallyboard/1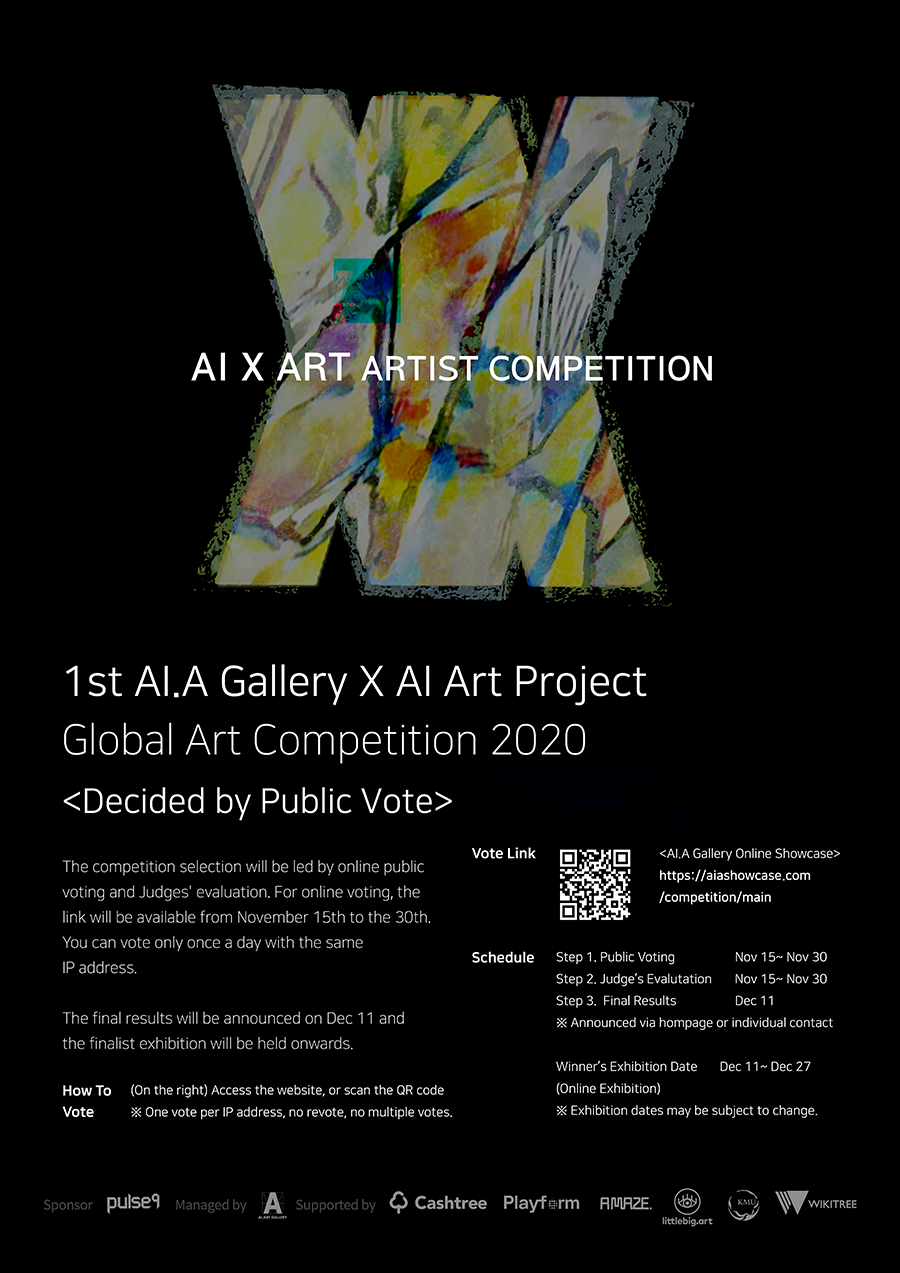 * Click on the poster above to go vote!
《The 1st AIA Gallery AI x ART Project 2020 》 Global Art competition_Decided by Public Vote

Pulse 9, a leading AI image technology company, leads the convergence of art and technology and presents new possibilities and socio-cultural values of artificial intelligence. 'AI Art Gallery AIA' under Pulse 9 held a global art competition 《1st Ayia Gallery AI X ART Global 2020》 to discover talented artists and expand the horizons of art activities using AI tools, a new artistic medium.

In this competition, we opened two awards sections. One is "AIA Gallery Awards" with the theme of 'face' in and the other one is "Special Awards" in freestyle. The participants will show their experiments and various ideas through their works with AI technology.

The competition selection will be led by online public voting and Judges' evaluation. For online voting, this URL below will be available from November 15th to the 30th. You can vote only once a day with the same IP address for each award section.

The final results will be announced on Dec 11 and the finalist exhibition will be held onwards.
We hope you will be interested in the discourses on artificial intelligence art and technology, which are deeply ingrained in our everyday lives and changing the way we live, and the experimental works of artists.

[How to vote]
1. Simply click the button 'Cast your vote' on either AIA Gallery Awards or Special Awards
2. Browse entries on the screen and click a thumbnail that you'd like to learn more
3. Click 'Vote for this artwork'

※ 1 vote for AIA Gallery Awards, 1 vote for Special Awards (2 votes in total per day)
※ One vote per IP address, no revote, no multiple votes.
※ URL for public voting
https://aiashowcase.com/competition/main
[Schedule]
-1st Evaluation (Online Exhibition) Nov. 15 - Nov. 30
-2nd Evaluation (the panel of judges) Nov. 15 - Nov. 30
-Award Announcement Dec. 11 *we will individually contact each winner. Or you also can find it on AIA website
-Winner's exhibition Dec. 11 - Dec. 27 (Online)
※ This schedule is subject to change according to circumstances.